"Bear With Me" – The adventures of a travelling sketchbook
"Bear With Me" is a charity collaboration with the best illustrators in the UK, initiated by author and illustrator Jason Ruddy. All proceeds go to the charity Great Ormond Street Hospital.
Between October 2012 and November 2013, the hardback sketchbook travelled over 1000 miles across the British Isles to visit 30 illustrators. Each of them continued the story about the adventures of a red bear in their own way. The result was a unique picture book where you can find the work of most of the biggest names in the UK's illustration world. See the pages and sketches of "Bear With Me" below!
First of all, the book's foreword was written by Sir Quentin Blake, together with his interpretation of the bear: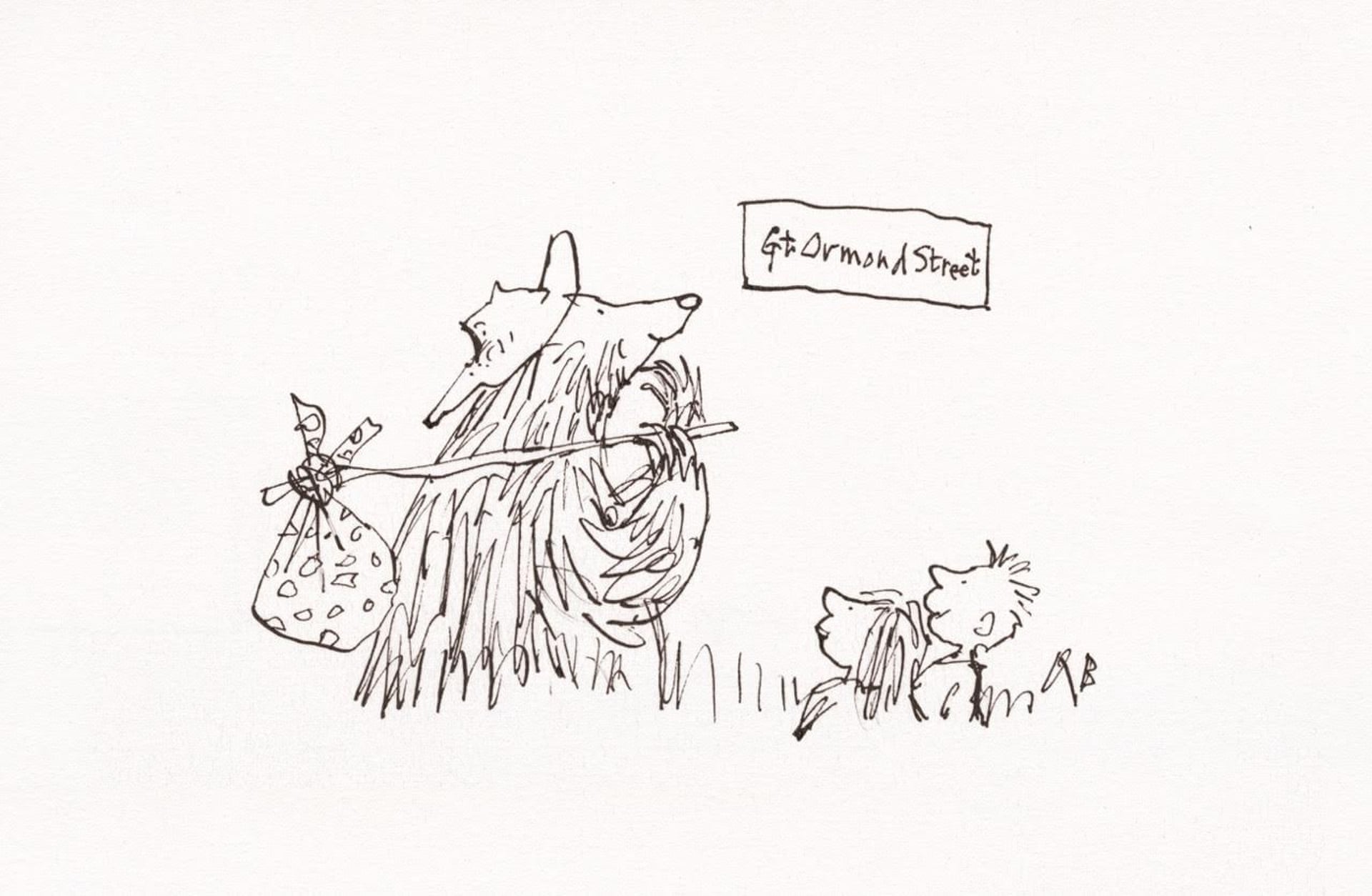 Catherine Rayner – week 1
First stop was Edinburgh. There the talented illustrator Catherine Rayner made the first visualization of the red bear, who she also named Lawrence. It's a fantastic piece to begin with. The whole focus is on the bear, and you can only catch a glimpse of what's going to happen to him.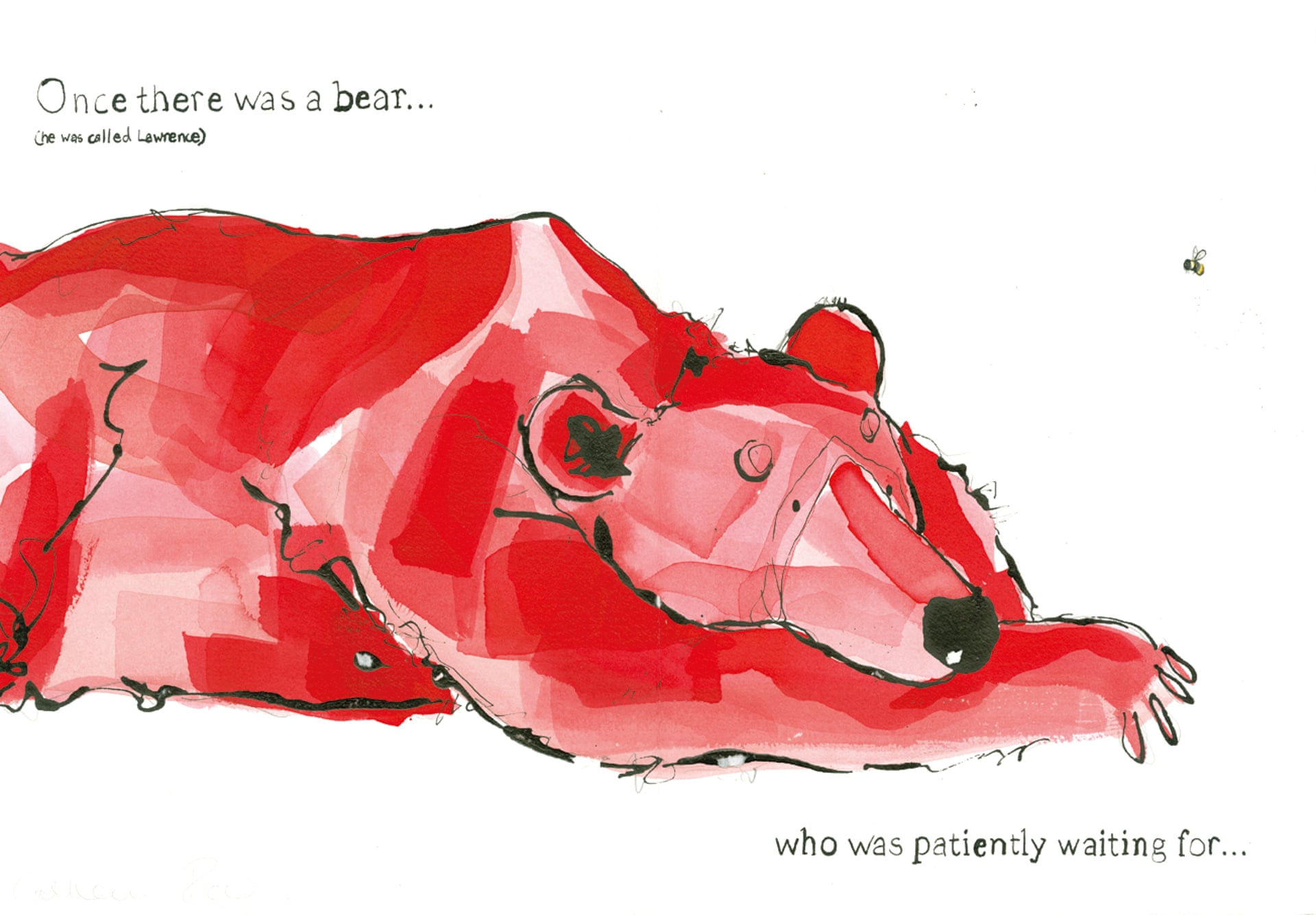 Emma Chichester Clark – week 2
Second stop was London. Emma Chichester Clark continued the journey of Lawrence the red bear beautifully. You can feel the wind breezing by and the bear's itch for an adventure. An awesome adventure.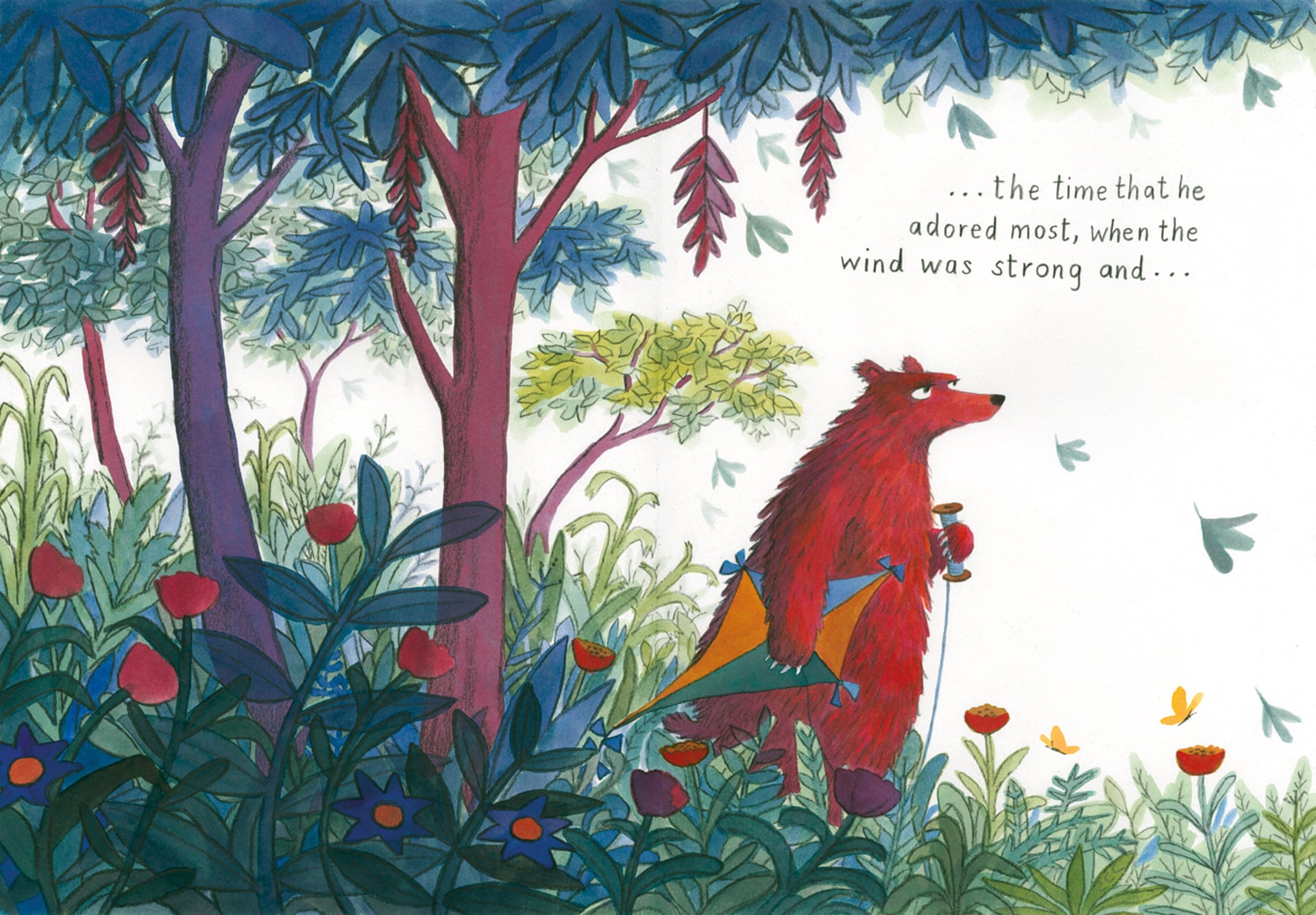 Sarah Warburton – week 3
In Bristol, Lawrence the red bear fell indeed in an adventure under the brush of Sarah Warburton. This spread page is amazing with a mix of materials from pencil to watercolour. Sarah's main interest is in the character, movement and expression.
Leigh Hodgkinson – week 4
This spread done by Leigh Hodgkinson shines vibrantly. Her signature collage with fabric stitched to the page is hard to miss. This crafty creation elevates Lawrence's journey to a totally different level.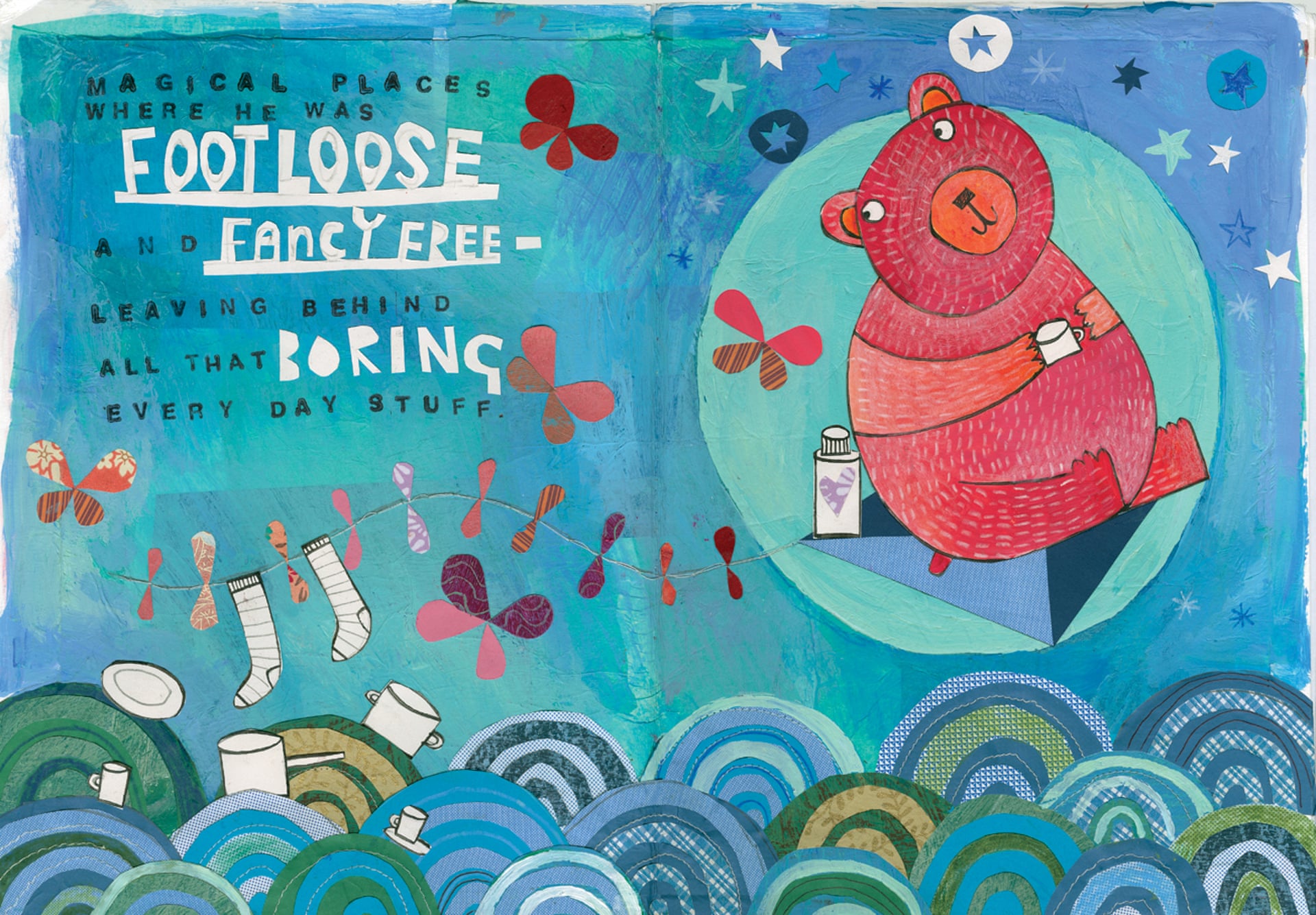 Chris Haughton – week 5
It thrilled me to see Chris Haughton's take on the adventure of the red bear. His paper-cut-style illustration is as brilliant as ever. The twist he brought to the story is so classic. How many times would you suddenly remind yourself "I left the cooker on!" while going on a grand adventure like Lawrence?
Alex T Smith – week 6
The book stayed with Alex T Smith in Coventry in the 6th week. His take on Lawrence's adventure is adorable beyond words. He's also the first to break the spread page into two separate pages. More momentum on the way!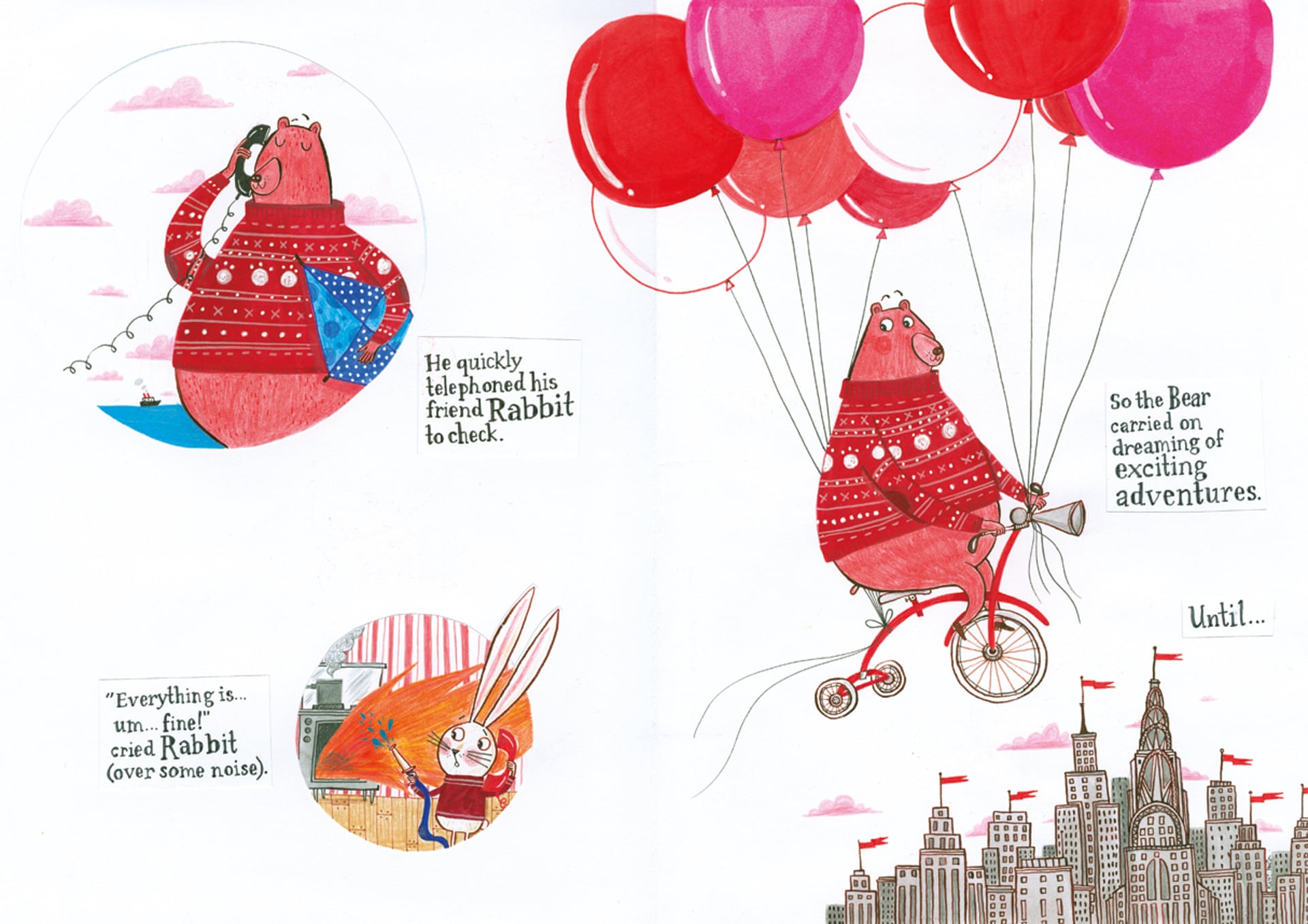 Sam Usher – week 7
Below is just one from the pile of sketches and colour tests Sam Usher had done for his spread page. No kidding. He painted and painted everything again to perfection.
Christine Pym – week 8
This week the book took a trip to Derbyshire to meet Christine Pym. Her way of illustrating Lawrence is so precious. I absolutely love the minimal edge of this page.
Matt Robertson – week 9
Love the twist Matt Robertson took on the black birds from Christine Pym here. From tea time to top hats, the Norwich-based illustrator added a bunch of endearing details to the story. Not to mention those lovely shades of red…
Gemma Correll – week 10
For the first time since its journey, the book got delivered by hand from Matt Robertson to Gemma Correll. Being neighbours is great, isn't it? Lawrence the red bear's journey wasn't easy, but it's all for the excitement! Gemma featured an encounter between Lawrence and the bees, then he ended up like this.
Neal Layton – week 11
An amazing thing about "Bear With Me" is that each spread page looks totally different from the rest. This week is no exception. Neal Layton in Portsmouth turned the spread page's orientation from landscape to portrait, made Lawrence much much smaller, and added a bunch of exciting characters (including a QR code).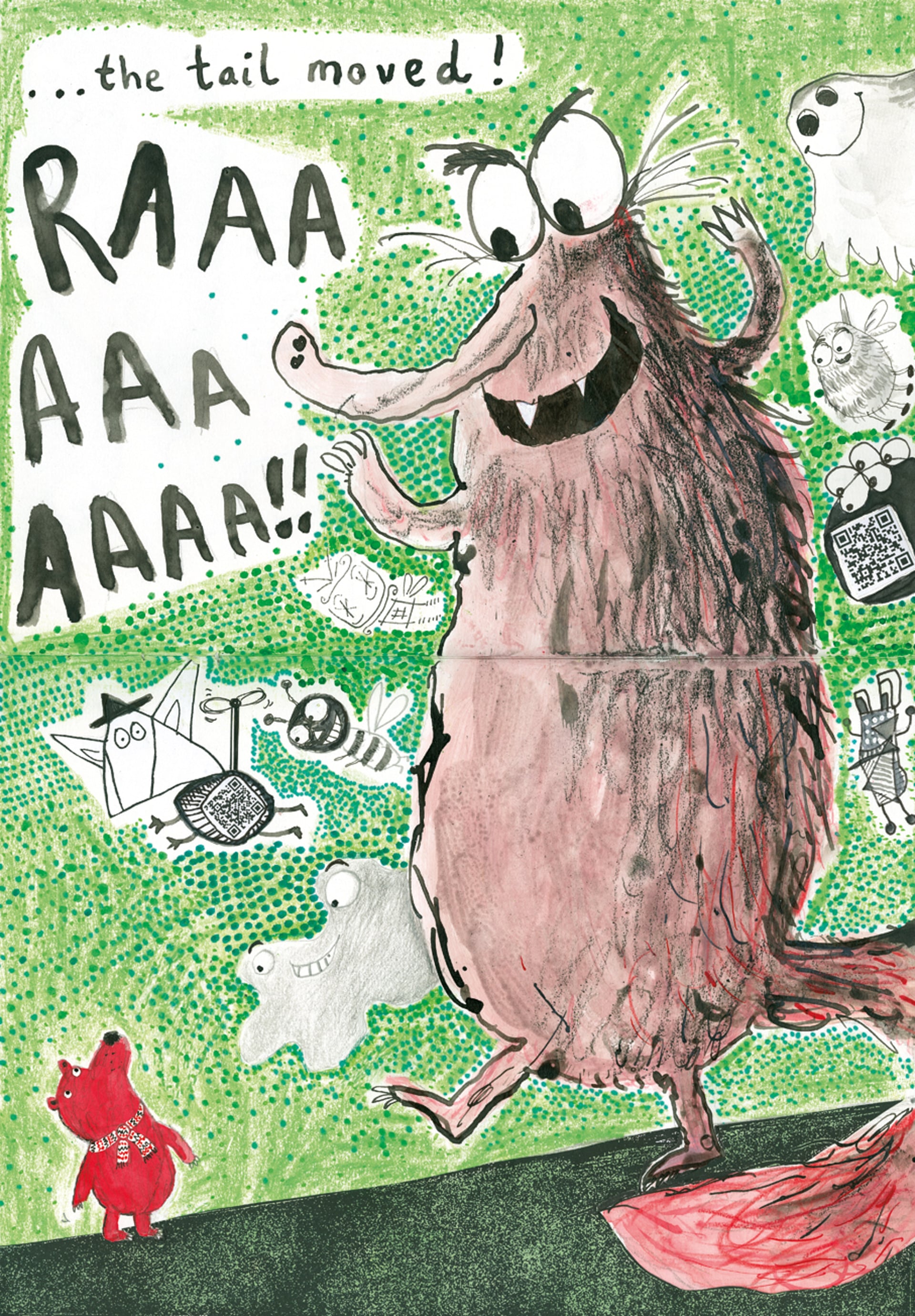 Kate Hindley – week 12
Then the book travelled to Birmingham and met the talented illustrator Kate Hindley. This spread page from her is particularly endearing thanks to the beautiful coloured pencil work. Even the monster looks so amiable.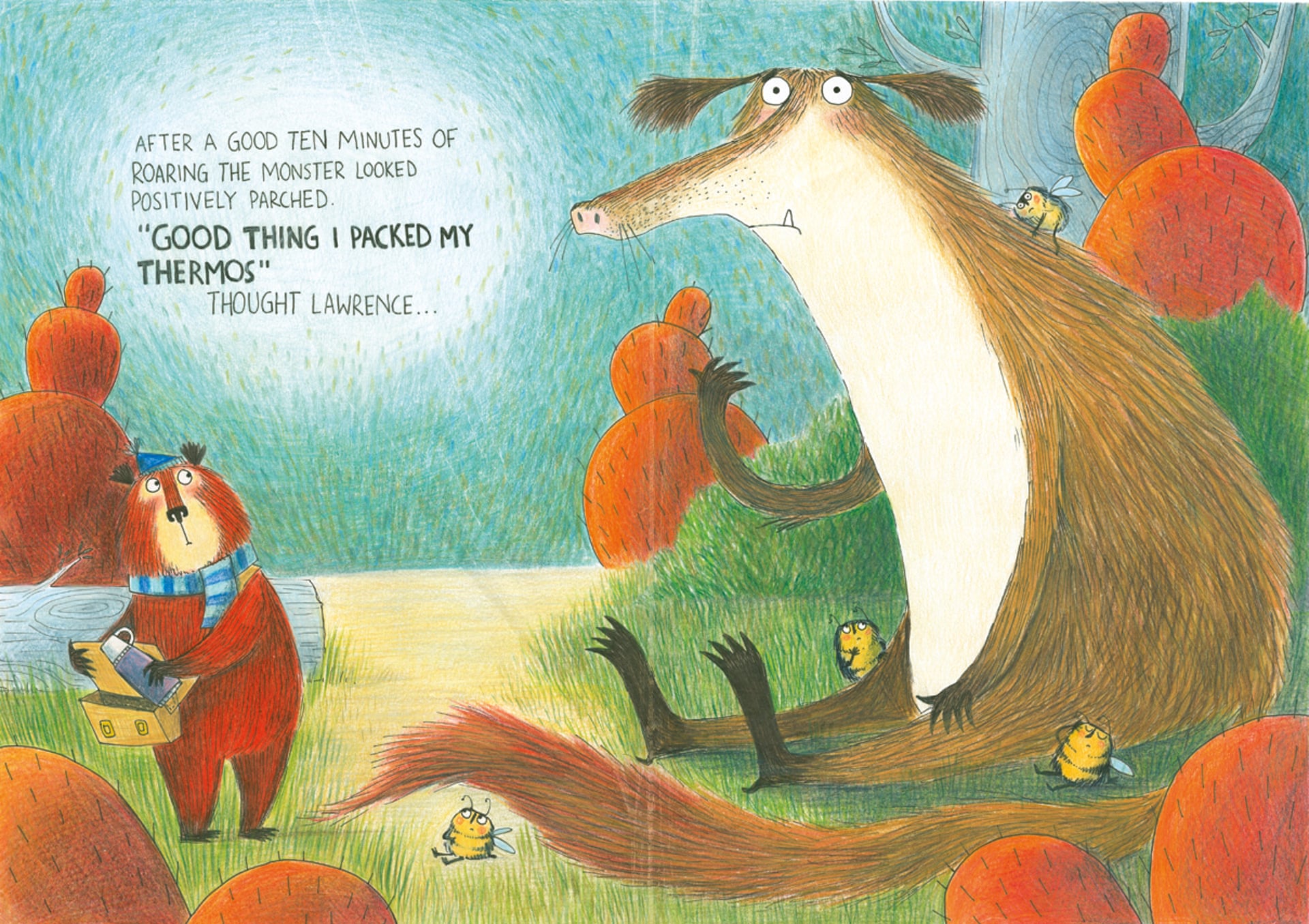 Clive McFarland – week 13
"Bear With Me" travelled overseas to join the paper cutting master Clive McFarland in Omagh, Northen Ireland. It's refreshing to see how Lawrence the red bear looks in paper pieces full of coloured texture.
Catherine McDaid – week 14
Back to Buckinghamshire, Lawrence went to the beach with Catherine McDaid. The watercolour work is so vivid and lovely here. The red bear must have had a very good time!
Mike Byrne – week 15
It's half way! Let's celebrate by cheering for the 15th artist – Mike Byrne. His take on the red bear is, well, much less red than any of the previous versions, but with no less charm or vibrancy.
Ben Mantle – week 16
The Brighton-based illustrator Ben Mantle took Lawrence to a completely different place this week. The cave was not half as scary as it would be, thanks to Ben's lovely, soft brushstrokes.
Holly Surplice – week 17
The book kept going south till Henley-on-Thames and met Holly Surplice. There are so many wonderful details in Holly's visualization of the red bear. The colours are super rich, the characters are captivating, and who doesn't like a Merbear?
Steven Lenton – week 18
Steven Lenton went on full force with the Merbear and made a delightful spread page here. It's fun to see how big the Sea King is, and how the seahorses are taking care of his beard, scales, and manicure.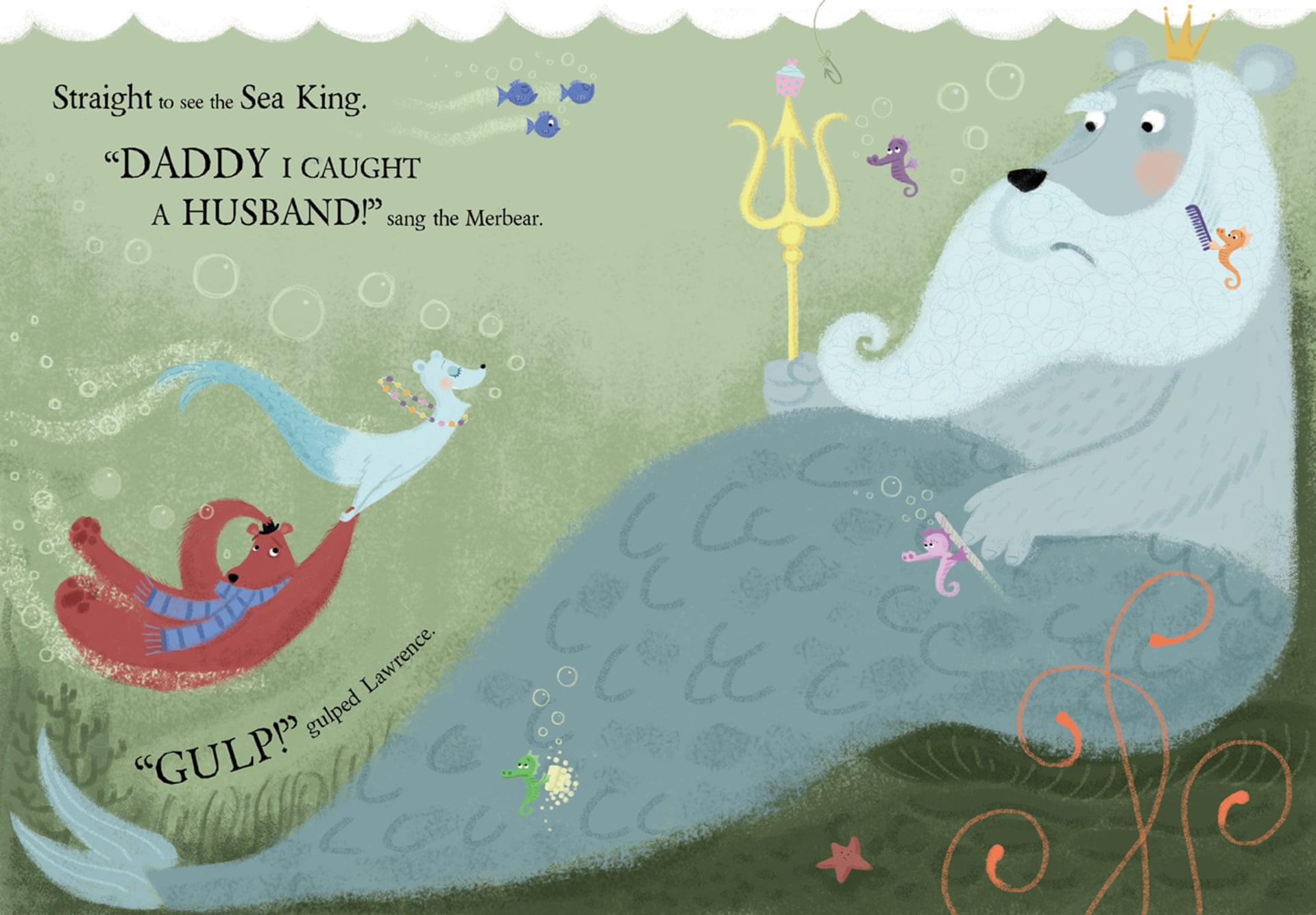 Jim Field – week 19
The book stayed in London for another week to visit Jim Field. The talented illustrator produced two super inspiring pages about Lawrence. The way he used dip pen to draw the bear's fur is extraordinary. Don't think I'll ever get enough of it.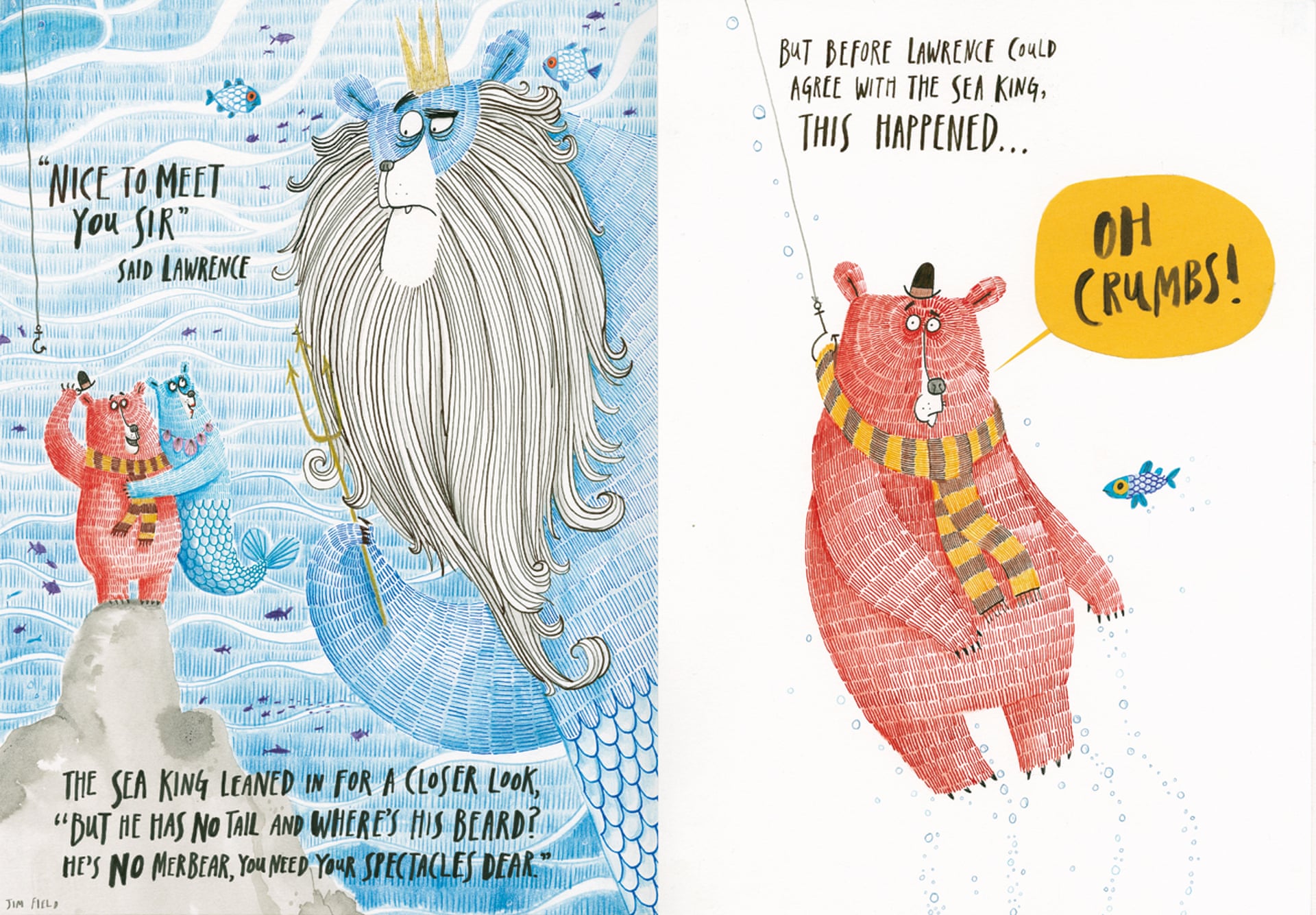 David Roberts – week 20
Still hanging out in London, "Bear With Me" knocked on the door of great illustrator David Roberts. David gave Lawrence's adventure another twist. A divine twist. Really love how he used various shades of red on different characters while keeping them distinctively apart.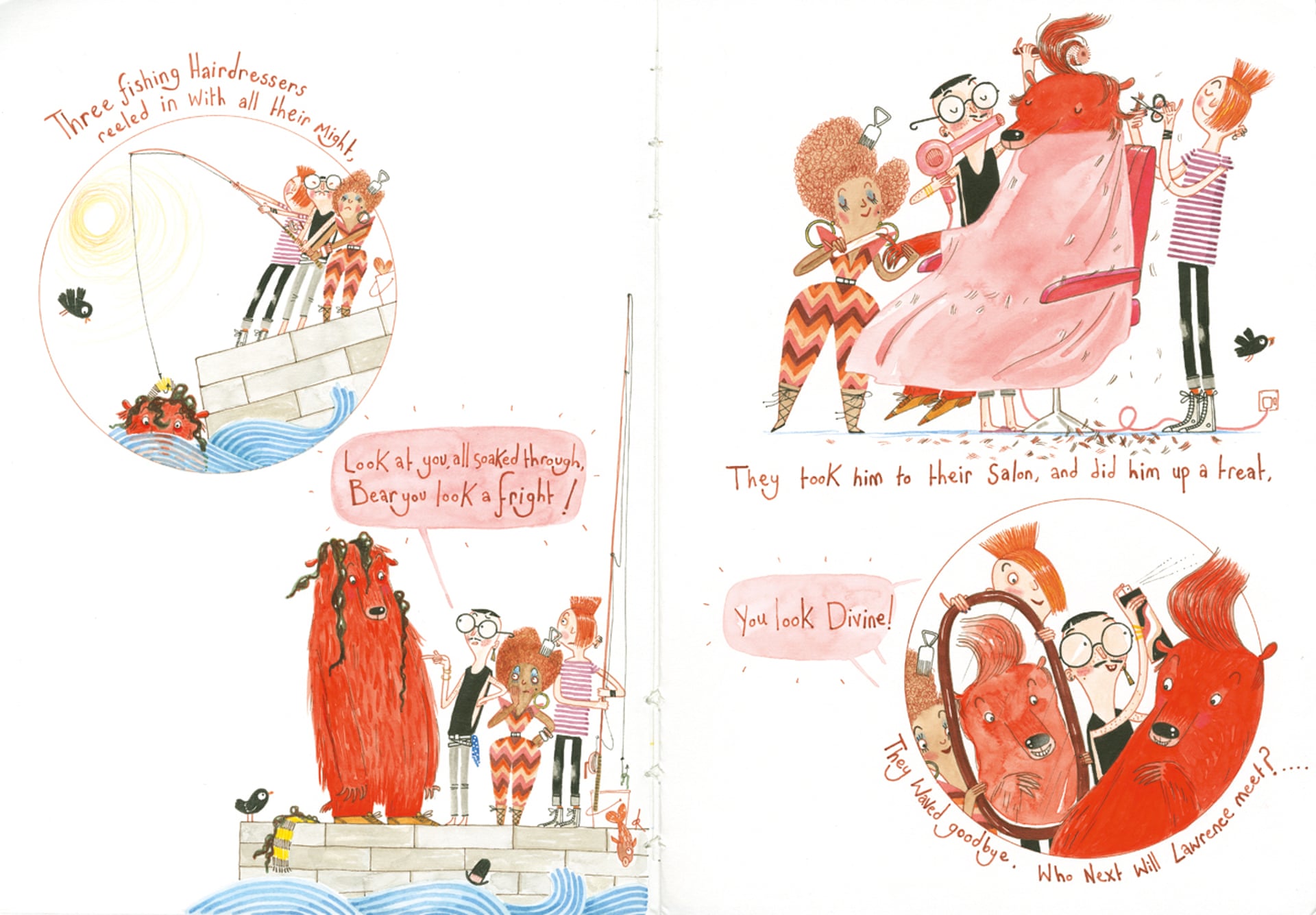 Sam McCullen – week 21
Goodbye London, the book went to Camberley, Surrey. The pastel master Sam McCullen living there drew an all-fluffy-adorable Lawrence on his way to stardom. It's fantastic to see the reappearance of earlier characters like the octopus and the black bird.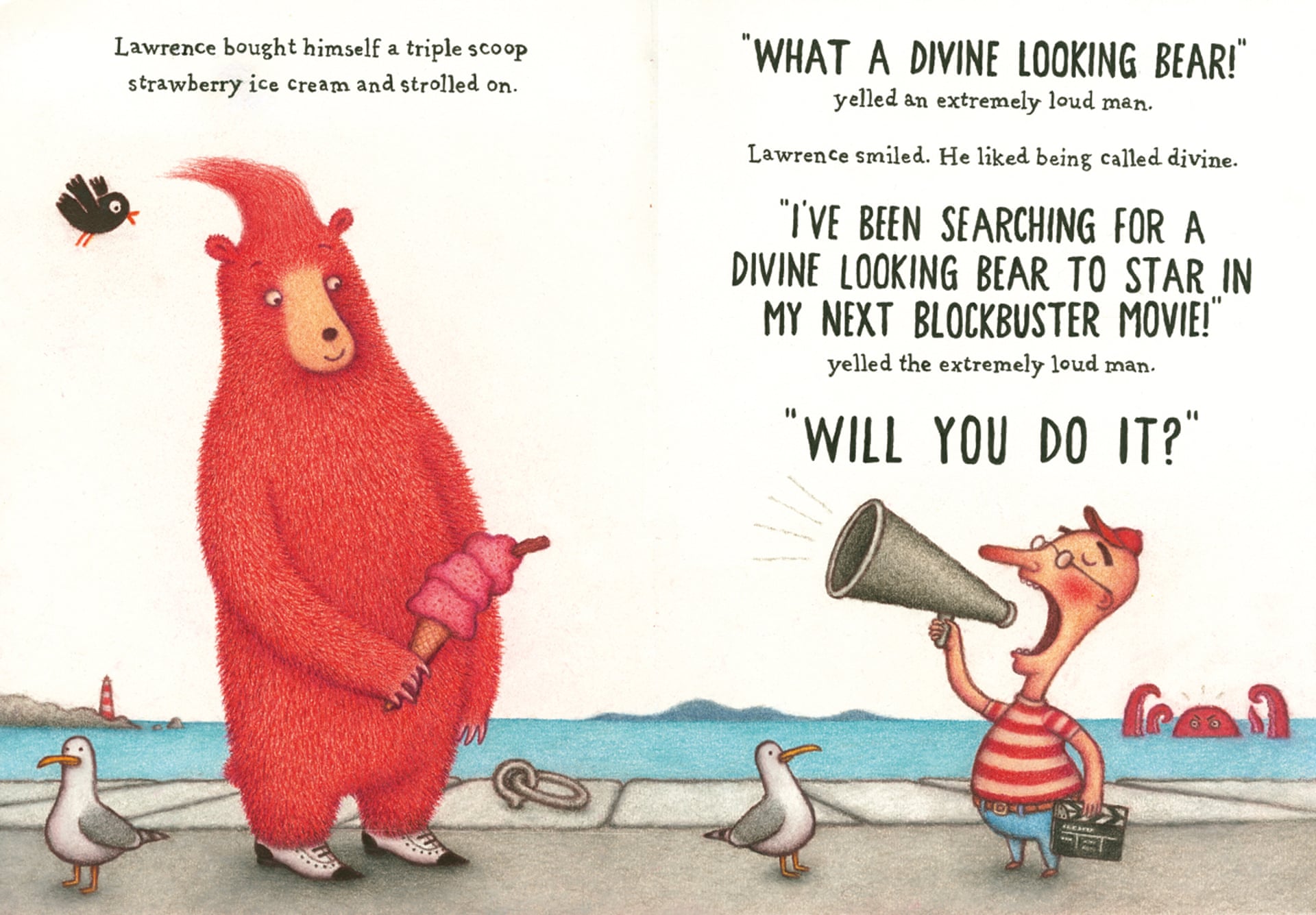 Benji Davies – week 22
The book travelled to London again for the next three illustrators. This week it stayed with the director turned illustrator, Benji Davies. What a coincidence, as Lawrence was finding his limelight. Benji showed him how quickly the showbiz could turn awkward.
Sarah Horne – week 23
Lawrence's acting career took an unexpected turn with Sarah Horne's illustration of his scene. There was much suspense going on here. Cliffhanger!
Kimberley Scott – week 24
Next stop is Kimberley Scott. She gave Lawrence a makeover with amazing ink line-work and radiant colours. Although the red bear was in trouble here, it's a delight to see him cope with it.
Katharine McEwen – week 25
The red bear had lots of fun with Katharine McEwen. The same went for her, since she finds bears very enjoyable to draw. Just look at those colours and shades. Mesmerizing, isn't it?
Mark Chambers – week 26
Mark Chambers' first self-authored picture book was "Brian the Smelly Bear". He must have known one or two things about bears now. His chapter of Lawrence's adventure depicted a wet end for the Rat Run ride.
Jason Ruddy – week 27
The red bear seemed to come back to his forest in Jason Ruddy's illustration. What a great place with many great friends waiting for him.
Lydia Monks – week 28
Lawrence really wanted to go home. And Lydia Monks visualized it charmingly. The Sheffield-based illustrator did a wonderful combination of various textures and simple shapes. The mood is incredible.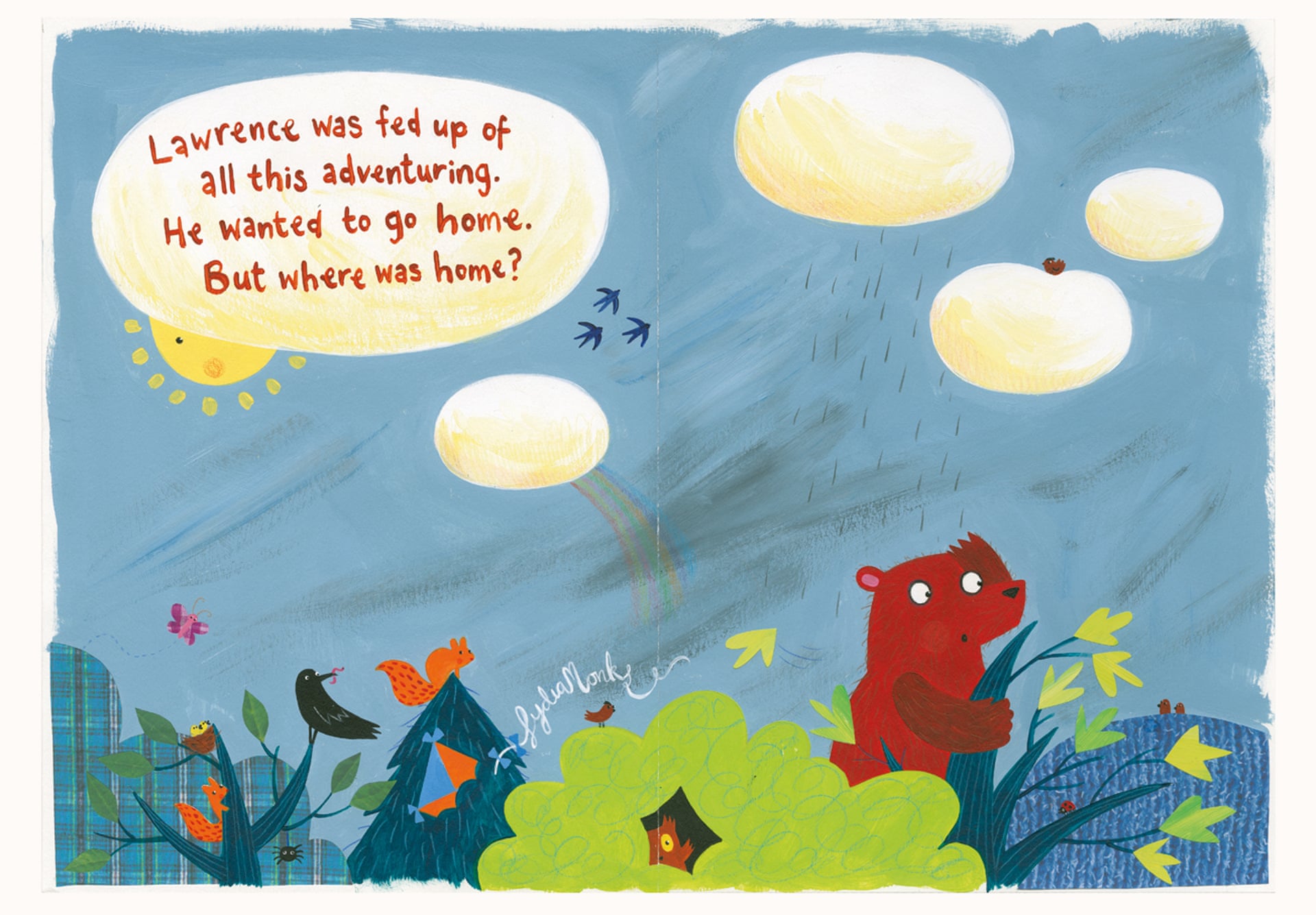 Chris Riddell – week 29
The book went to Brighton again to pay the legendary Chris Riddell a visit. The talented illustrator made such a brilliant artwork for "Bear With Me". Lawrence was there being all big and afraid, while the little girl was small and brave.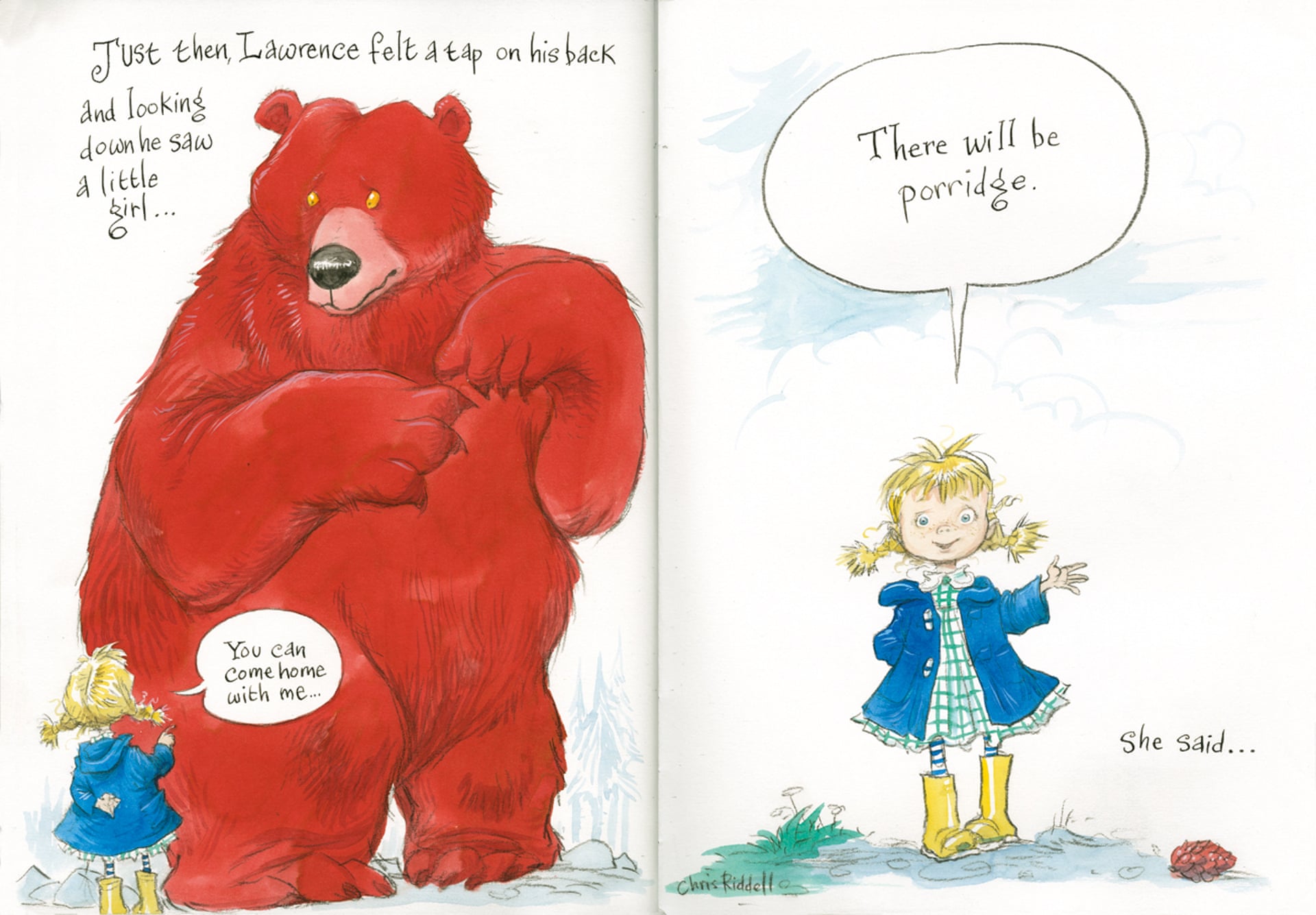 Ed Vere – week 30
To tie 'porridge' back to the beginning of the story and make it all a full circle is a great feat done by Ed Vere. The look on Lawrence's face and Rabbit's are priceless.
That's all. Pat yourself on the back for bearing with Lawrence all the way here. 30 illustrators have created this extraordinary series, but the journey isn't over yet. Follow Lawrence's next step on Facebook, Twitter, Instagram, & Pinterest!