Núria Madrid shares her neat & dazzling 3D illustrations
"I'm Núria Madrid, a freelance designer + art director born and raised in sunny Barcelona. After working for several years in advertising agencies as an art director, now I try to focus more on 3D illustration."
Núria told us, and we're sure happy that she did. It's jaw-dropping to see Núria's 3D creations. Anyone would've wondered: "Is that real?… Or 3D renders?" They just look so flawlessly fabulous and gorgeously convincing.
Each model is so carefully crafted with great attention to details. Núria's ability to juggle with different materials and let them interact with each other through reflection, shadow and lighting is pure genius. It gives the viewers an tremendous satisfying feeling. Some makes you think "this is real", while some is "too beautiful to be real" and you're just happy that it's there for you to see.
So we're super excited to have Núria Madrid talk about the behind-the-scenes of her latest splendid 3D artwork. Enjoy, and don't forget that you can see even more great work on her website, Behance, Instagram.
Project 1: 3D Alphabet
"I decided to participate in this year's "36 days of type". I think it is a very interesting project (made by Nina Sans and Rafa Goicoechea) that challenges you to make a type every day and tag it on Instagram. It was great to follow other artists' types and see how everyone gives their particular view on the different signs in our alphabet."

"I decided to make it 100% with 3D softwares because it's a way to practice and try lots of techniques and ideas. By that moment, I hadn't used a lot of 3D illustrations in my work, so that project encouraged me to practice. Sometimes I thought of an idea and executed it within the same day. Other times I thought of an idea for a letter and began to sketch it out for a few days. I made the sketch directly on 3D softwares because I didn't have much time.
Some days it was hard to participate and make something awesome, because at the same time we all have our regular job. But a lot of great artists made the effort to post lots of stunning types."
Project 2: Kyoto
"My project "Kyoto" is part of a workshop about Cinema4D. I made it because I liked the teacher's work a lot. So I thought it could be fun and inspiring to try. I visited Japan years ago when I was 21. I loved Kyoto, it was my favorite city for its blend of traditional and modern Japan.

I wanted to do some illustrations in isometric perspective and full of details and objects. I found a lot of reference images in that point of view, so I started to sketch the elements and the main geometric structure with easy geometric pieces. For the colors, I made a color scheme that I liked and decided to use only 3 or 4 simple glossy and sticky materials."
Project 3: Economia Mag September
"I was commissioned to make the September's cover and interior feature about this year's rich list on a British magazine called Economia. I was given complete freedom to compose the images. The only requirement was to show the areas where all these rich people made their business (aviation, football, industrials, hotel, technology). I wanted to do something fun and flashy to contrast with the seriousness of the magazine."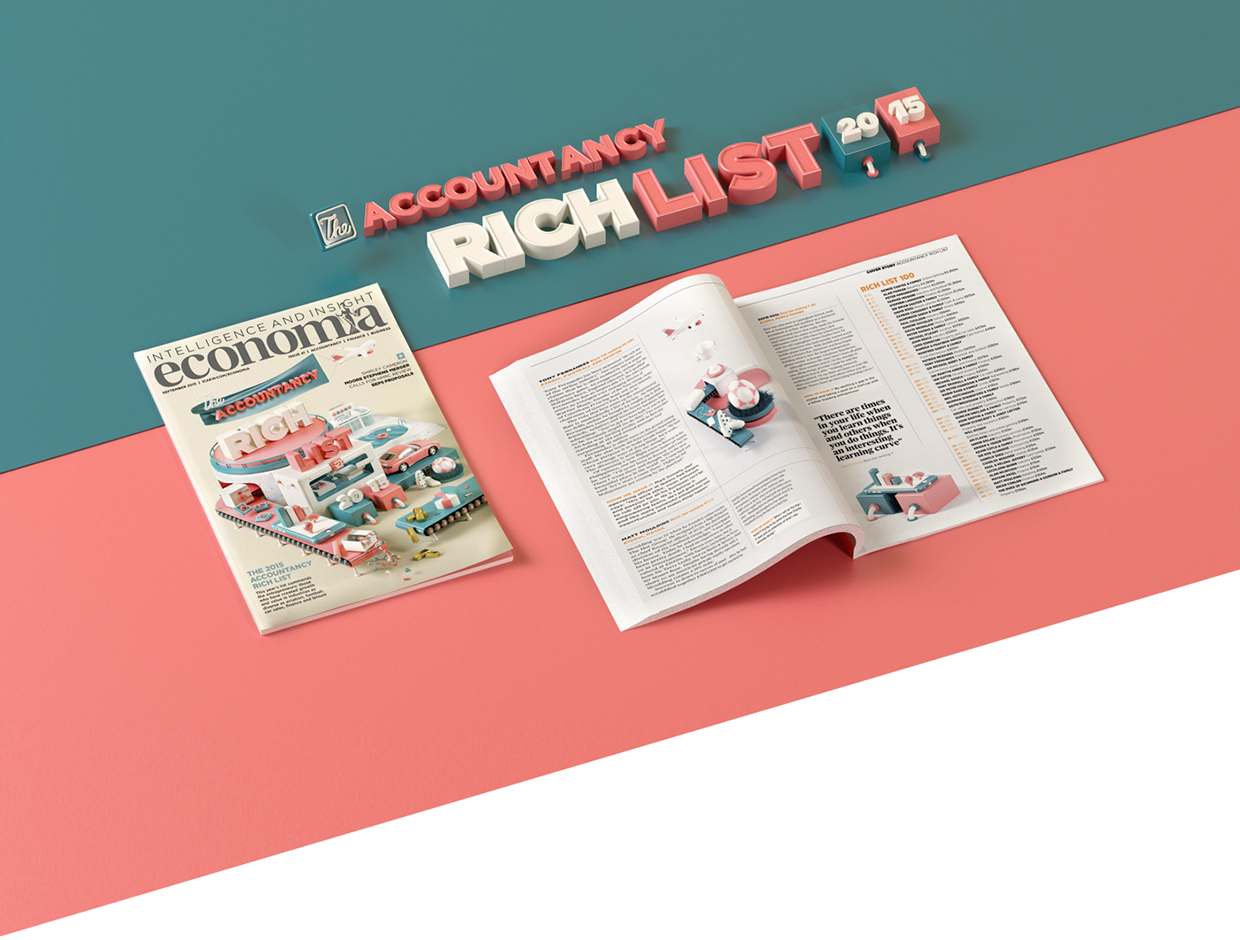 "First I modeled all the elements that I had in mind and then built everything around the headline. I spent most of the time making the composition, then deciding the color palette. First I used lots of colors but it looked a bit muddy, so I narrowed down to only three colors. This project was a collaboration with Cristian Malagón."